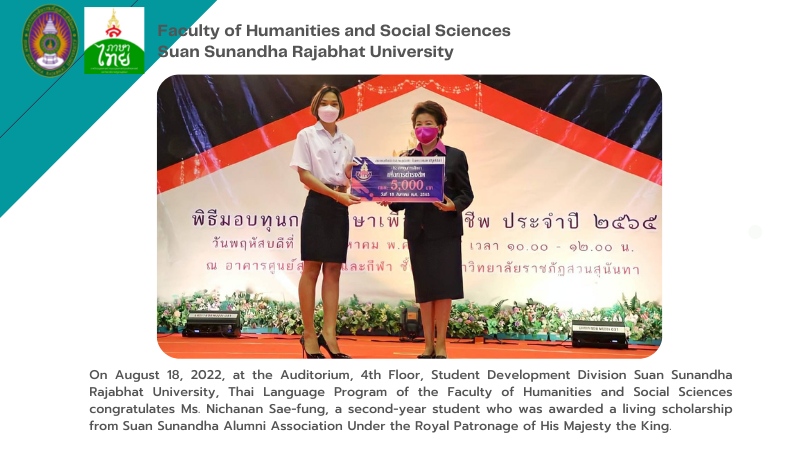 On August 18, 2022, at the Auditorium, 4th Floor, Student Development Division Suan Sunandha Rajabhat University, Thai Language Program of the Faculty of Humanities and Social Sciences congratulates Ms. Nichanan Sae-fung, a second-year student who was awarded a living scholarship from Suan Sunandha Alumni Association Under the Royal Patronage of His Majesty the King.
Ms. Nichanan Sae-fung gets good grades and has demonstrated responsibility and discipline in her regular study habits. Additionally, she is polite, enjoys interacting with others, and is grateful to her parents.
The Thai program would like to take this opportunity to thank the Suan Sunandha Alumni Association for providing scholarships to students. After being awarded the scholarship, Ms. Nichanan shared her thoughts.
"My name is Nichanan Sae-fung, and I'm a Thai language student in the Faculty of Humanities and Social Sciences. I would like to thank my instructors for giving me the chance to become eligible for the Suan Sunandha Alumni Association under the Royal Patronage's scholarship program. I'm pleased to have this chance, and I wish to thank the Association for setting up such a great scholarship for students with outstanding grades, good behavior, and financial need. I was one of the delegates given the opportunity, and I've always desired it. I'd like to help other students get opportunities like the one I had.
Finally, I'd like to thank myself for making things easier for my family. No matter how exhausted I am from work or studying, I will do my best, and I want to thank my family for always being there for me and encouraging me. It gave me the motivation to struggle and work hard. My parents can one day see my success.